TRADITION MUTUAL INSURANCEOFFERS FLEXIBLE INSURANCE WITH HOME-TOWN HEART
At Tradition Mutual, we are here to bring safety, security and certainty to our policyowners in an unpredictable world. We know you, and you know us on a personal basis. We have integrity and stability earned over a 140 plus year history St. Mary's, Stratford, Sebringville and Perth and Huron counties. We live in our community and believe in investing within the communities we serve. If you have an insurance policy with us, you are a policyholder and an owner. At Tradition Mutual, you are the most important part of your policy.
Our roots as a company started with Farm Insurance, which is still our focus but we offer a wide variety of complementary types of insurance, including:
Automobile
Residential including homeowner, tenant and condominium packages
Expanded Farm Products including livestock, Farmers Accident, and more
Seasonal homes
Commercial insurance
Church insurance
Tradition is a mutual insurance company. That means our sole purpose is providing insurance to the community. Tradition is:
100 percent Canadian and 100 percent local
Owned collectively by its policyholders – people just like you
An expert in the area
Your neighbour – we live in the communities we serve.
It's your insurance – own it!
The difference between mutual insurance and other insurance is ownership. As a mutual insurance policyholder, you are also an owner. That means insurance premiums stay in the community where they belong. And unlike large, multinational companies who have shareholders to please, mutual insurance companies act only in the best interests of their policyholders.
Here's one example. Insurance is about planning for the worst. But if the worst doesn't happen, you might have some money left over. In a shareholder-owned insurance company, they call that money 'profits.' In a mutual insurance company, they call it a policyowner equity. We have provided premium refunds to our policyowners as declared by our board of directors.
Although Tradition is a local company, our strength and stability is backed by Ontario Mutuals, a partnership of more than 40 mutual insurance companies across Ontario. Together, we make up one of the strongest financial networks in the world.
We have a long history in this community
1876 Blanshard Mutual Insurance was formed to protect farmers from loss due to barn fires.
1878 Blanshard paid its first claim.
1884 Downie Mutual Insurance was formed.
2003 Blanshard Mutual and Downie Mutual amalgamated to form Tradition Mutual Insurance Company. Since then we've continued to protect our community with insurance products and personal service.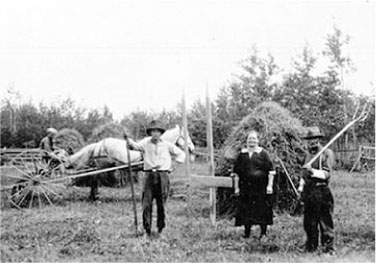 Finnish farmers in Canada, 1926
Agricultural representative Photograph Albums,
Archives of Ontario, 10019306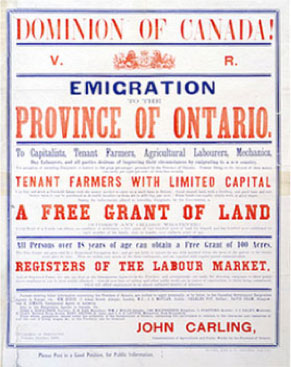 Beginning in 1869, Government advertising programs were created to encourage people to settle in Ontario. Through the use of pamphlets, posters, and very persuasive agents, immigrants from United Kingdom, Europe. and the United States were drawn to Ontario for the free land and hope for a better future.
Department of Immigration
Archives of Ontario Poster Collection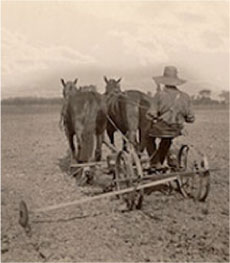 Planting with a dual seeding machine. 1919