You might find that you have a lot in common with our agents. They live and work and volunteer in our community. When it comes to finding the right insurance, they're your home team.
Once they have listened to your needs, they will recommend coverage to suit your situation. If you have to make a claim, you can count on them to help you through the process and get your life back on track.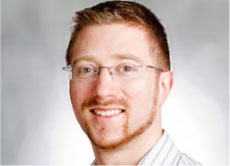 KYLE WIJNANDS, BA, MA
Phone: (519) 393-3246
Email: kwijnands@traditionmutual.com
Kyle is proud to have grown up in Sebringville and knows the community that Tradition Mutual services very well. He has past employment experience within the social services and agri-business working alongside hog producers, dairy farmers, horse farmers and the livestock transportation industry. Kyle enjoys meeting with his clients and ensuring that the coverage he offers closely fits their lifestyle and needs.
When not at work, Kyle enjoys spending time with his family, camping, playing piano and painting.
Kyle's Tradition: "Kyle's tradition is aiming to treat people the way he would like to be treated."
Contact Information:
Phone: 519-393-3246
Email: kwijnands@traditionmutual.com
www.stratfordmutualinsurance.com
Tradition Mutual Insurance Company