Tradition Mutual made donations towards the Royal Canadian Legion Branch 8 and The Ontario Royal Command of the Royal Canadian Legion.
The first was towards Branch 8 in Stratford. Branch 8 has been serving Veterans and their families for 95 years. They sponsor many community programs and events including senior programs, youth education and sports, and services for veterans.
The second donation was the Ontario Command of the Royal Canadian Legion. They have two programs that our funds will be going towards; Operation Service Dogs and Operation Leave the Streets Behind. Operation Service Dogs provides service dogs for Veterans suffering from PTSD symptoms. Operation Leave the Streets Behind helps Veterans find housing.
Veterans have worked hard for our country, Tradition is honoured to donate to organizations and programs that provide much-needed services to our Heroes.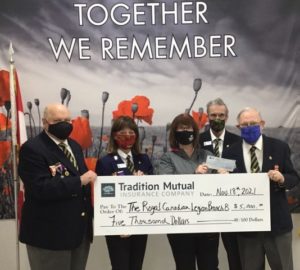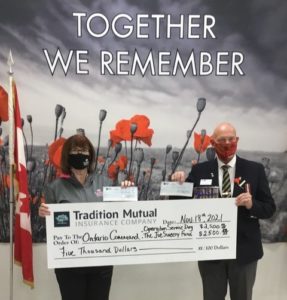 Tradition Mutual Insurance has donated $100,000 towards the building of the West Perth Village. A long-term care facility should not feel like an institution; it should be full of care and compassion where the seniors feel included in the community that they are a part of.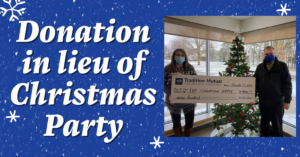 This year the Board of Directors decided to stay Covid safe and not do a Christmas Party. In lieu of the party the board decided to donate to the Salvation Army.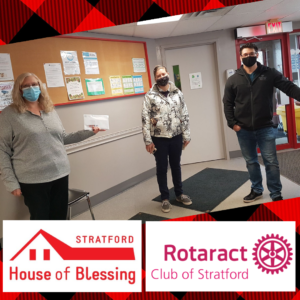 Tradition's staff went above and beyond this year with their staff donations. They came together to raise an outstanding sum of $720! This money went to the Stratford's House of Blessing's Family Sponsorship Christmas program and to the Rotaract Club of Stratford's Be an Angel to a Senior program. It is amazing to see that even a part, we were able to come together for two amazing causes!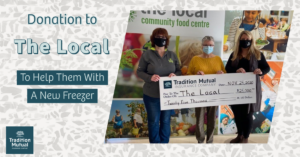 In honour of Giving Tuesday Tradition donated $25,000 to The Local. The Local's old freezer is on its last legs and they required a new one to be able to continue with all their food projects. The Local has many cooking and gardening workshops. Their aim is to provide new skills and encourage healthy eating and sustainable living. The Local provides financially accessible ways to access nutritional food, and meals for those in need, as well as a sense of community to all. This freezer will ensure all of these programs can continue.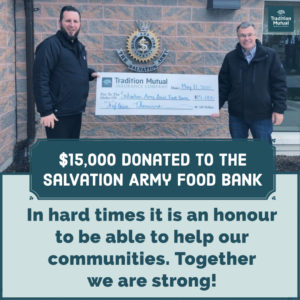 This week Tradition Mutual made a donation to The Salvation Army Food Bank. During these hard times, we recognized a need and we are honoured that as an organization we are able to support our communities. The money will be divided to support the food bank needs of St. Marys, Stratford and Mitchell