Erin Courtney, a Claims Adjuster, here at Tradition has donated to two organizations, Golden Rescue and Prom Project Hamilton.
Since 1990 Golden Rescue has helped find homes for surrendered, abandoned, unwanted, or displaced golden retrievers. The organization is completely volunteer-based, they have over 500 volunteers in Ontario and Quebec. Their reach goes far beyond Canada, they have helped rescue dogs from all over the world, including the United States and Egypt. Since their start in 1990, they have helped give 3312 dogs a second chance.
Erin heard about this organization through a friend and she started volunteering in 2015. In 2016 she joined the events team and in 2017 she became the team lead for LCBO tag days. LCBO tags days are days where an organization can set up in front of an LCBO to bring awareness to their cause. She is responsible for over 30 of these events a year for Golden Rescue.
Prom Project Hamilton provides elementary and high school students, with limited means, the opportunity to pick up an outfit for their formal event, get their hair, and makeup done, and get photos done. For many of these kids, they would not be able to afford these luxuries and would therefore not be able to attend these special events. In 2017, the event helped around 100 students, it has since grown to help over 300 students a year.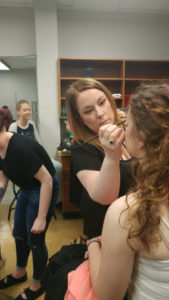 Erin completed her Makeup Artistry certification in 2016 and was looking for ways to give back to the community when she came across Prom Project Hamilton. In 2017 she offered her services of doing makeup for the students. She loves to offer her services to these students because she can relate to them, she loves to allow them to get glammed up and pampered. She looks forward to every year and seeing the smiles on all of the students' faces.
Both of these organizations offer an invaluable service to those who need it. Both rely on amazing volunteers and fundraising from the community. Tradition is happy to support both Golden Rescue and Prom Project Hamilton so that they can continue to have a positive impact on their communities.