TRADITION MUTUAL OFFERS FLEXIBLE INSURANCE
WITH HOME-TOWN HEART
At Tradition Mutual, we are here to bring safety, security and certainty to our policyowners in an unpredictable world. We know you, and you know us on a personal basis. We have integrity and stability earned over a 140 plus year history St. Mary's, Stratford, Sebringville and Perth and Huron counties. We live in our community and believe in investing within the communities we serve. If you have an insurance policy with us, you are a policyholder and an owner. At Tradition Mutual, you are the most important part of your policy.
Our roots as a company started with Farm Insurance, which is still our focus but we offer a wide variety of complementary types of insurance, including:
Automobile
Residential including homeowner, tenant and condominium packages
Expanded Farm Products including livestock, Farmers Accident, and more
Seasonal homes
Commercial insurance
Church insurance
Tradition is a mutual insurance company. That means our sole purpose is providing insurance to the community. Tradition is:
100 percent Canadian and 100 percent local
Owned collectively by its policyholders – people just like you
An expert in the area
Your neighbour – we live in the communities we serve.
We have a long history in this community
1876 Blanshard Mutual Insurance was formed to protect farmers from loss due to barn fires.
1878 Blanshard paid its first claim.
1884 Downie Mutual Insurance was formed.
2003 Blanshard Mutual and Downie Mutual amalgamated to form Tradition Mutual Insurance Company. Since then we've continued to protect our community with insurance products and personal service.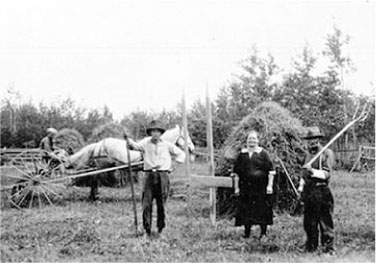 Finnish farmers in Canada, 1926
Agricultural representative Photograph Albums,
Archives of Ontario, 10019306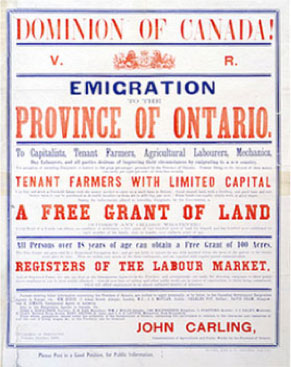 Beginning in 1869, Government advertising programs were created to encourage people to settle in Ontario. Through the use of pamphlets, posters, and very persuasive agents, immigrants from United Kingdom, Europe. and the United States were drawn to Ontario for the free land and hope for a better future.
Department of Immigration
Archives of Ontario Poster Collection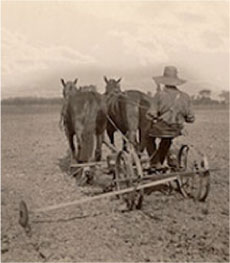 Planting with a dual seeding machine. 1919
MEET OUR TEAM
We have a long history in this community
TRADITION MUTUAL STAFF LIVE AND WORK IN YOUR COMMUNITY
Tradition Mutual is part of the community;
we understand local conditions and needs because we live here too. We are here to bring safety, security and certainty to our local members in an unpredictable world.
President & CEO:
Accounting:
Marty Mathieson – Finance Manager
Barb Bode
Andrea Ludington
Heather Olbach
Underwriting:
Kim Wolfe – Underwriting Manager
Ann Nowack
Marg Jordan
Kelly Wheeler
Becky Knifton
Deb Tsitomeneas
Monica Koehler
Claims:
Jeff Irwin – Claims Manager
Gabrielle Therrien
Peter Kuzyk
Erin Courtney
Marketing:
Tanya Diehl – Business Development Manager
Karen Neely – Marketing & Software Support
TRADITION MUTUAL DIRECTORS ARE A LOT LIKE YOU
Our directors are your fellow farmers, business owners and neighbours. They are Tradition policyowners who want to make a difference in their community. As members of the elected board of directors, they represent the interests of all policyholders.
If you're interested in becoming a director, please contact Paul Burns at (519) 393-6402.
MaryJane Littlejohn – Chair
Gerald Weersink – Vice Chair
Dave Leyser – Past Chair
Jim Watt
John Nyenhuis
Jill Taylor
Ben Waghorn
Leslie Showers
Steven Fife
TRADITION MUTUAL INSURANCE AGENTS ARE IN YOUR CORNER
You might find that you have a lot in common with our agents. They live and work and volunteer in our community. When it comes to finding the right insurance, they're your home team.
Once they have listened to your needs, they will recommend coverage to suit your situation. If you have to make a claim, you can count on them to help you through the process and get your life back on track.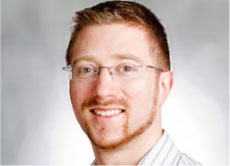 KYLE WIJNANDS, BA, MA
Phone: (519) 393-3246
Email: kwijnands@traditionmutual.com
Kyle is proud to have grown up in Sebringville and knows the community that Tradition Mutual services very well. He has past employment experience within the social services and agri-business working alongside hog producers, dairy farmers, horse farmers and the livestock transportation industry. Kyle enjoys meeting with his clients and ensuring that the coverage he offers closely fits their lifestyle and needs.
When not at work, Kyle enjoys spending time with his family, camping, playing piano and painting.
Kyle's Tradition: "Kyle's tradition is aiming to treat people the way he would like to be treated."
Contact Information:
Phone: 519-393-3246
Email: kwijnands@traditionmutual.com
Tradition Mutual Insurance Company
CONTACT A TRADITION MUTUAL INSURANCE BROKER TODAY
Tradition Mutual products are sold through our own insurance agents and brokers as well as these two experienced and local insurance brokers: Zehr Insurance Brokers and St. Mary's Insurance Group Inc.
ST. MARY'S INSURANCE GROUP IS SMALL ENOUGH TO CARE, BUT LARGE ENOUGH TO COMPETE
St. Marys Insurance Group has been helping people get the right insurance coverage for more than 50 years. Independent and locally owned, SMIG is proud to serve customers who are also their friends and neighbours. That's why SMIG brokers use their resources to support the local community, as a great place to live, work and play.
47 Water St. S., Box 820
St. Marys ON, N4X 1B5
Phone: 519-284-1900
Toll Free: 1-800-810-7475
ZEHR INSURANCE BROKERS IS A FULL-SERVICE INSURANCE BROKERAGE THAT FOCUSES ON CUSTOMER SATISFACTION
Zehr Insurance Brokers Limited protects what matters to you. Horace J. Zehr established the firm in 1954 in New Hamburg, Ontario. Today Zehr has offices throughout Waterloo Region, Oxford County, Perth County and Huron County, along with wide representation in the balance of the province of Ontario. But their focus is still the same: act on the clients' behalf first, providing honest, reliable and dedicated service. Zehr also gives back to the community through sponsorship of Brain Injury Canada and its Helmets for Life campaign.
1-800-667-1802 (After Hours Claims: 1-800-267-5540)
It's your insurance – own it!
The difference between mutual insurance and other insurance is ownership. As a mutual insurance policyholder, you are also an owner. That means insurance premiums stay in the community where they belong. And unlike large, multinational companies who have shareholders to please, mutual insurance companies act only in the best interests of their policyholders.
Here's one example. Insurance is about planning for the worst. But if the worst doesn't happen, you might have some money left over. In a shareholder-owned insurance company, they call that money 'profits.' In a mutual insurance company, they call it a policyowner equity. We have provided premium refunds to our policyowners as declared by our board of directors.
Although Tradition is a local company, our strength and stability is backed by Ontario Mutuals, a partnership of more than 40 mutual insurance companies across Ontario. Together, we make up one of the strongest financial networks in the world.